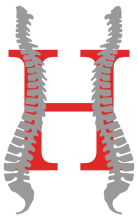 Comprehensive Back Pain Solutions
The treatments for spine and back problems are as varied as the problems themselves. Conditions such as severe scoliosis (an abnormal, side-to-side opposed to forward or backward curvature of the spine) or kyphosis (a forward rounding of the spine) usually require surgery, whereas mild scoliosis or kyphosis have more non-invasive treatment options such as physical therapy. Other back pain issues can be addressed without surgery as well. At Hunt Spine, we do not rely on surgery as the end-all-be-all for back pain treatment. We treat every person with the procedure needed to give them the results they need and want.
At Hunt Spine, Dr. Leonel Hunt, an orthopedic spine surgeon, and Dr. Gabriel Hunt, a neurosurgeon, form a team of unparalleled excellence. They understand and embrace the entire spectrum of comprehensive and effective spine treatments, from conservative physical therapy to the more direct approach to spine surgery. The doctors are always striving to deliver the safest spine surgery Los Angeles has to offer and prefer non-surgical methods when possible.
Find out more about spinal treatment and neurosurgery options below or call (310) 423-9834 to schedule a one-on-one consultation with one of the best spine surgeons in Los Angeles at Hunt Spine.
You Are Our Priority
An important factor in any surgery is the patients' knowledge and understanding of it. By being fully informed, you can make an educated decision about what is best for you. At Hunt Spine, you are our top priority; we take the necessary time with you to answer all of your questions and concerns in your one-on-one consultation. Dr. Leonel Hunt and Dr. Gabriel Hunt care, and it proves itself in their attention to detail and results. This is why our patients say they are among the best Spine and neurosurgeons Los Angeles has to offer. Please call our office today.